Now through September 30, 2020
|

Superstition Springs Center
---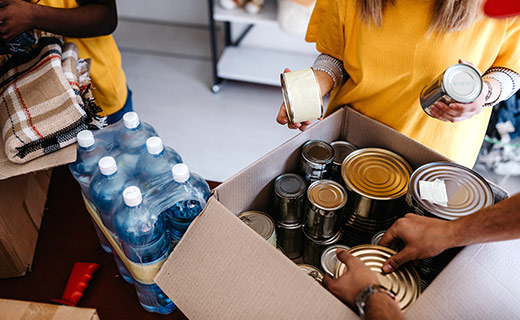 Help us in supporting our local community food banks from coast-to-coast. We've partnered with United Food Bank to collect monetary donations on their behalf.
Donating is easy: give.unitedfoodbank.org/SuperstitionMall
Make sure you share with your family and friends!
Physical Food Drive - Saturday, September 26
Join us on Saturday, September 26 from 7am-12pm in Parking Lot A between The Cheesecake Factory, T.J.Maxx and Dillard's near our Outdoor Amphitheater where you can make monetary and food donations in person. Just pull up to the curb and our volunteers can help you unload.
Working with our partner properties throughout the country, we're aiming to help serve a million meals to those in need. We thank you for your love, generosity and support!
Donor Thank You Giveaways
The first 100 families to drop off a bag of food, case of water or make a $10 cash donation on this day will get the following freebies or discounts from retailers.
Free Starter or Sushi Roll at Kona Grill (with purchase of entree).
Free Small Milk Shake, Frosted Lemonade or Coffee at Chick-fil-A.
25% off your entire meal at Old School Grub Cafe.
$2 off a Lemonade or Slushy Lemonade at Cuties Lemonade (Valid on any Monday).
Most Wanted Food Items
Cereals and oatmeal
Chili, soups and stews
Canned tuna or chicken
Peanut Butter
Beans
Canned vegetables and fruit
Canned or dried milk
Canned tomato products
Rice and pasta
Please no glass jars or open food.
More Information about United Food Bank
United Food Bank is a 501(c)(3) nonprofit organization that has been providing hunger relief to people in need in the East Valley and eastern Arizona for more than 35 years. We collect, acquire, store and distribute food and related commodities to more than 220 partner agencies that serve more than 228,000 people in need across more than 19,500 square miles.
In 2019, United Food Bank distributed almost 24 million pounds of food providing nearly 19.5 million meals to our neighbors in need. In response to the economic impact of COVID-19, the food bank projects it will distribute nearly 25 million pound of food (30 million meals) this year.
See all participating properties
October Kids Zone
October 10, 2020 | JCPenney
Kids can stop by to pick up a craft kit to take home, and Mom & Dad receive a special 1 day coup...