Now through October 26, 2023
|

Find the "Kids Zone" in the Food Court
---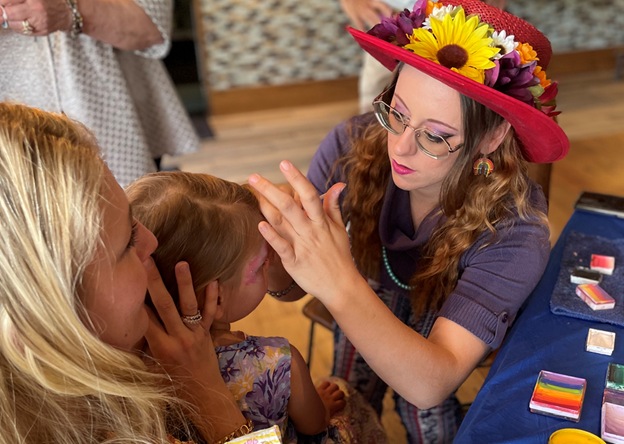 FUNDAY in the FOOD COURT
Every THURSDAY in the food court from 11AM to 12:30PM
For every $5 you spend on Thursdays in the food court from 10AM to 12:30PM, your child will get one carousel ride voucher and a special Kids Zone activity.*
TO REDEEM:
Find our "Kids Zone" in the food court that will be setup between 11AM and 12:30PM.

The kids activity will rotate each week starting with face painting, then balloon animals and then glitter tattoos.
This schedule will rotate from August 3rd through October 26.

*Must be in line by 12:15PM to guarantee the kids zone activity. Carousel ride vouchers will be given out in the Kids Zone until 12:30PM and it can be used at any time that day. The carousel ride and Kids Zone activity are valid for one day only and they will only be given to kids who are in attendance. They are not transferable to another day.
Q&A

Kids Club Changes and the FUNDAY in the Food Court Program!
Do I have to spend money to participate in the kid's activity and carousel ride in the food court?
Yes. For every $5 you spend at any of our food tenants that day, you get one kid's same day entry for the kids' activity and carousel ride.
Your flyer I got at kid's club said I had to spend $20 or more.
The feedback we got was this was too much for people who only have one kid, so we have updated to make it more affordable for everyone.
If I spend $10 but only have one kid, can I gift one entry to a friend with a kid?
Yes. If your friend is with you on the same day, you can gift it to them to use.
If I spend $10 but only have one kid, can I keep one entry for next week?
No. The kid's activity and carousel ride must be done that day and do not roll over to the following week.
Does the carousel ride have to be taken by 12:30pm that day or can I use it later?
You must be in line at the Kids Zone with your receipt showing a min $5 purchase by 12:30pm to pickup the carousel ride voucher. It can be used at anytime that day but cannot be used after that day.
What will Kids Club look like next season?
Thank you for bearing with us this year as we explored several different kids club formats, entertainers and concepts to determine what is the best experience for our customers, families and retailers.
We look forward to taking what we have learned this year and presenting you with an exciting Kids Club program in 2024.
If you wish to provide feedback, please email Dana.Schiemann@Macerich.com
GRAND OPENING EVENT!!!
Starting September 29, 2023 | Desert Rose Art Boutique
It's OFFICIAL!!! Desert Rose Art Boutique is celebrating their GRAND OPENING! Friday, Sept 29 - Su...
Holiday Hiring Job Fair
Starting October 14, 2023
Get Your Resume's Ready! Our retailers and restaurants are gearing up for the holidays and they are...