Mesa Water Hydration Donation Campaign
Now through September 25, 2020
---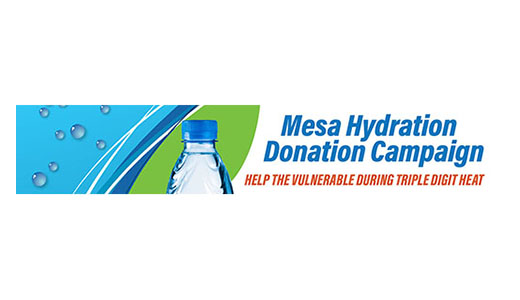 The 14th Annual Mesa Hydration Donation Campaign to provide bottles of water to those in need during the extreme summer heat is underway and continues through September 25, 2020.
More information about the campaign and a list of drop-off locations are available at www.mesaaz.gov/H2Omesa.
Kids Club ***Cancelled until Further Notice***
July 16, 2020 10:00 AM - 10:45 AM
We are postponing Kids Club for the time being. We apologize for this inconvenience, and we look for...
Mesa Fire and Medical Department Immunization Clinic *** CANCELLED UNTIL FURTHER NOTICE***
August 12, 2020 5:00 PM - 7:00 PM
Mesa Fire and Medical Department will provide free immunization services to eligible children from b...